Pollonia - Milos, Cyclades
Refreshing holidays combining a Cycladic scent & pure Greek hospitality!
In one of the most beautiful and picturesque places on the northeast coast of Milos, in the beautiful picturesque fishing village of Pollonia, in a very outstanding position on the Pelekouda peninsula, lies the hotel Domus Litus, a finest two-story accommodation with luxury studios right by the sea, offering accommodation in a calm and relaxing environment, ideal for those looking for a peaceful vacation.
By choosing Domus Litus studios by the sea, you will feel the absolute carefree and rejuvenating experience, full of beautiful images and moments, either enjoying the accommodation or taking a walk in the picturesque village of Pollonia & the neighboring attractions of this beautiful island. 
Luxurious double studios with modern comforts and a traditional aura!
Domus Litus, a resort of Cycladic architecture, offers ten luxury double studios, of excellent layout & fully organized, spread over two floors. Specifically, there are 6 Superior Studios [21 m²] and 1 Deluxe studio [23 m²] overlooking the sea, as well as 3 Standard Studios [21 m²] overlooking the courtyard & the garden. 
Perfectly harmonized with the natural, Cycladic colors, decorated with finesse, carefully selected furniture, quality linen, but also equipped with all the necessary amenities, such as kitchenette, small refrigerator, tea/coffee preparation facilities, the rooms offer a perfect living environment, where peace and tranquility prevail. 
You will enjoy the sea breeze and the wonderful Cycladic landscape on your balcony, you will spend every hour relaxing in the hospitable courtyard, against the backdrop of the Mediterranean Sea, which is a short walk away, you will enjoy diving in crystal clear waters, overlooking at the wonderful and unique sunset next to the imposing rock Kalogeros.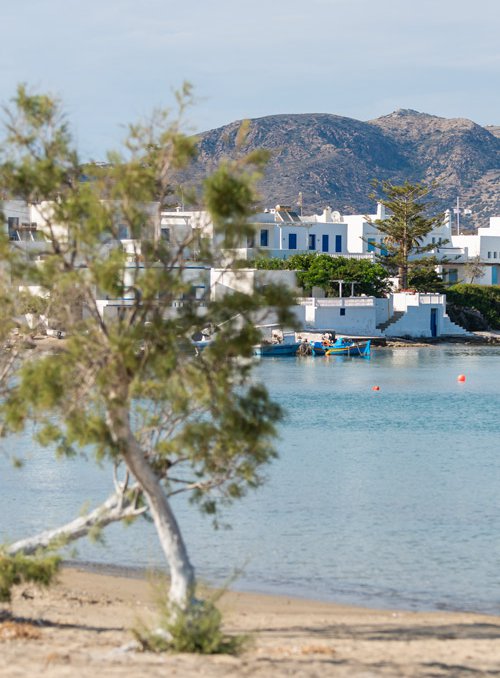 Also, it is only about 10 km from the port of Adamas and 14 km from the capital Plaka, making it the ideal place for excursions to the island, its villages, and beaches.
Domus Litus is located in a very outstanding location near the sea, a few meters from Pollonia & the beautiful sandy beach with tamarisk trees.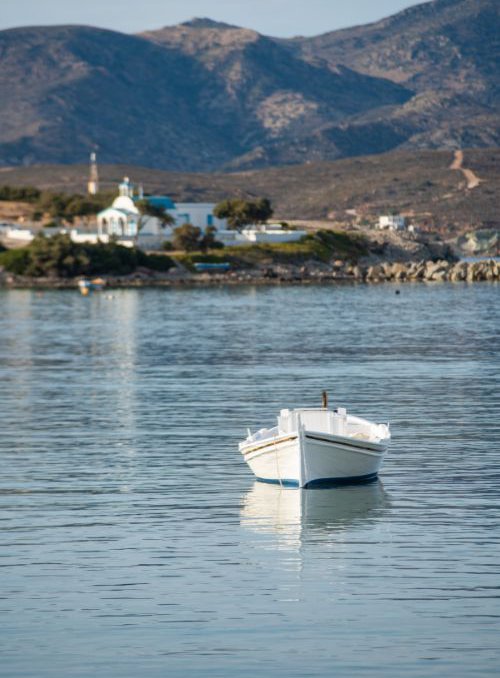 Domus Litus visitors discover a mini holiday paradise, embraced by a picturesque creek with fishing boats, whitewashed houses, and beautiful churches. Although it is a miniature village, it lacks nothing, as just 500 m. meters from the complex of rental studios, you will find cafes and restaurants, a bakery, playground, a mini-market, taxi & bus stop.
Being based in Pollonia, you will experience wonderful nearby beaches [Mytakas, Papafragas Sarakiniko, Kastanas, Tria Pigadia], you will visit unique attractions [Plaka, Kastro, Adamas Klima], and you will have fun with sea or sailing activities & sailing tourist boats that travel around the island and visit some of the most famous and beautiful beaches of Milos. From Pollonia, you will have the opportunity to visit the neighboring Kimolos, as there are daily connections to the island, in just 20 minutes!
 
Milos
A cosmic and eerie beauty for sophisticated travelers!
Picturesque villages on the sea, traditional settlements and Venetian castles on mountain peaks, more than seventy beautiful beaches within the remarkable geomorphological landscape that often seems unreal compose an island destination of incomparable beauty.
Milos is undoubtedly one of the most famous Cycladic islands for holidays and is distinguished internationally as a top holiday tourist destination. The favorite island of Cyclades is connected to Attica by boat and by plane. Departing by ferry from Piraeus, depending on whether you choose a conventional or speedboat, the Piraeus-Milos route between 2 hours 45 minutes to 6 hours 15 minutes, while by plane it is only 25 minutes away from Athens.
The island of Aphrodite will win you over at first sight. Small, sheltered harbors, such as Areti, Fourkovouni, Mandrakia, Firopotamos, Klima, Empourios, seem to have come out of postcards as they are decorated with cave houses with balconies above the water and colorful windows. The beaches of Milos, sometimes rocky and sometimes with golden sand or colorful pebbles, hidden in caves or embraced by very high cliffs, offer the ideal environment for swimming and exploring the pristine seabed. In addition to incredible dives, you will enjoy beautiful walks in the traditional capital Plaka with the Venetian Castle and exciting tours of the museums of Adamas, the island's main port, which occupies a prominent position in one of the largest natural bays in the Mediterranean.